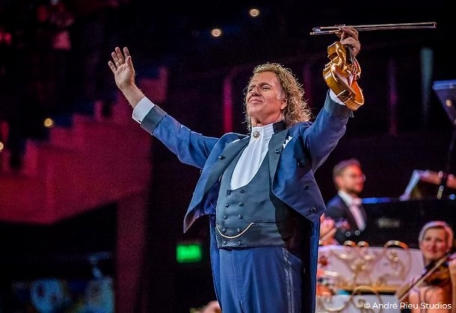 André Rieu looks ahead to his own reality series Welcome to My World (4).
From: TV Guide Televizier, by Ernest Marx.
December 7th 2022.
Translation: Ineke, assisted by Jennifer Dawson.(John is in the Netherlands for Christmas).
André Rieu has just finished his daily sports hour in his hotel room in Tel Aviv. The night before, he
performed in Israel a sold-out concert and is preparing for two more concerts at the Menora Mivtachim
Arena. "My personal trainer always travels with me and I work out with him every morning," says André
over the phone. "So now I have all kinds of weights and dumbbells in my room, which the hotel staff have
placed here at my request. It has been a fixed pattern for me for years; after breakfast I first exercise for
an hour."
When did you start doing that?
"At the age of 62 I was overworked twice in a row. Then I thought: "Something has to change". My family
doctor then said that I was a bit overweight and that I really had to do something about my health. He
recommended a personal trainer, Ruud Gransier, who eleven years later still is with me. In addition to
being a personal trainer, Ruud is also a doctor, movement expert and nutritionist. Moreover, he is vice
world champion power lifting. And it shows! He is so wide that he needs two seats in an ordinary plane. "
Can we conclude that you are now top fit?
"I think you can say that. Although I turned 73, I think I am fitter than some of the youngsters who walk
around in my orchestra. But it has to be done. We do between eighty and a hundred concerts a year all
across the world. I even bought three new tour buses because my old buses were just gone. I really intend
to be able to do this job for another thirty years. That is why I want to stay as fit as possible."
After the performances in Tel Aviv, Rieu travels to Lisbon with his sixty-piece orchestra for a few concerts.
After that, Vienna, Bratislava, Skopje, Belgrade, Zagreb and Salzburg are on the program. Five more
performances will follow in Maastricht in mid-December. Then abroad beckons again. Everywhere his loyal
followers receive him with equal enthusiasm.
For years, those same fans have also been able to see on television how he is doing behind the scenes.
André Rieu: Welcome to My World is a British real-life series which is broadcast by AVROTROS in the
Netherlands. "We noticed years ago that the audience really likes to see what happens on tour when we're
not on stage. Then we thought: "let's film that more often". So if something special happens, like our
performances for the first time in Uruguay, a camera crew goes along. The fans like that and so do we."
The fourth season of "Welcome to my world" is now starting in the Netherlands, about your life
and work in corona time. It shows that you have found a new hobby: baking cakes. How did that
happen?
"If I can't sleep at night after a concert, I always watch baking videos on YouTube and I save them. Only I
never had the time to do anything with it. Then the pandemic came and we were suddenly obliged to stay
at home. "I'm not someone who can sit still. Either I'm sleeping or I'm doing something. There's nothing in
between for me. So I thought: I'd like to bake. First I bought all kinds of baking stuff and I just started.
Miraculously, my cakes were tasty too."
But that interest was suddenly there?
"That came gradually. I saw more and more videos of Cees Holtkamp, a confectioner from Amsterdam. I
thought he was a nice guy. He baked the most delicious things together with his granddaughter and
explained how he did it. One thing led to another. I contacted him and now he helps me to make my cakes
even better."
Do you ever bake with your grandchildren?
"The nice thing is that my son Pierre and his children live fifty meters from me. So when the grandchildren
want to bake something, Pierre always says: 'Go to grandpa, he has everything at home.' But in the
beginning, during corona, of course we couldn't do that together, then we weren't allowed to get together.
But in the end it certainly happened."
Do you have a specialty as a pastry chef?
"I can do so much now. But what I really like myself is such a traditional Paris-Brest. That is a fairly difficult
cake. You make it with profiterole batter and a special nut cream. Really delicious."
Has the corona time given you - apart from baking knowledge - any other insights?
"Yes. I have become even more aware of how dear to me are the people I work with. In addition to my
fantastic Johann Strauss Orchestra, I have of course also gathered a whole company around me with
great people. When everything came to a standstill due to corona and we had no idea for how long, I
wanted to keep that group going anyway. Of course we received support from the government. I am very
grateful for that. But the government did not pay for everything. In order to keep all people employed, we
had to pay the rest ourselves and I did that with all my love. It's not just about the position of a secretary or
a trumpeter. Behind that are all people I've known for years. Certainly when I had to decide how to
proceed during corona, I realized even more how valuable they all are to me, it really feels like I have two
families, my own family and the one I have been traveling around the world with for more than 25 years ."
After all these years, what is your biggest motivation to continue doing this?
"Very simple: making music on stage for people who are visibly happy with it. And that makes my
orchestra and I happy again. That is my motivation now and it was also the case before my breakthrough
in 1994. Nothing has changed. The breakthrough was of course a very nice occurrence. An unknown
musician who suddenly sold a million albums in our small country! After us, no one has ever achieved that
again. Earlier, Michael Jackson sold a million records in the Netherlands with his album "Thriller". But in
TWO years. I achieved to do that in ONE year and I am still very proud of that. Of course that helped to
interest concert promoters abroad. "What's happening there in the Netherlands?! Who is that André Rieu?"
"It didn't mean that I could take a rest. I just kept going. And I still do it with the greatest pleasure. That's
why I hope I can continue for another thirty years."
"The year that the music stopped".
Voice-over: Ivo Niehe.
Episode 1 of the real-life series "Welcome to my world" 4. Duration 50 minutes.
"The Vrijthof".
(Voice-over: Ivo Niehe)
Episode 2 of the real-life series "Welcome to my world 4." Duration: 50 minutes.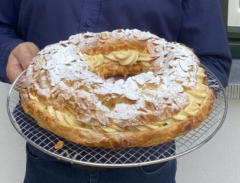 The Limburger. December 9, 2022. By Pascale Thewissen. Translation: Ineke, assisted by Sonja Harper.
Every week we model a portrait of someone who is in the spotlight. This week: Andre Rieu.
André Rieu already knew as a teenager that he would become rich, thanks to his violin:
'He wants to give his family everything he didn't have before'.
The Johann Strauss Orchestra will start a series of five Christmas concerts on Saturday evening
December 10th, at the MECC in Maastricht. After two corona years, in which all performances were
cancelled, André Rieu (73) is going full throttle again. "He is living his dream and wants to continue doing
so for as long as possible." "If we had been in high school now, we would have been nerds," laughs
hotelier Camille Oostwegel. "If the rest of the class went right, we went left. We were misfits, dreamers and
both in love with the same girl. But she was more interested in a member of the Moskowicz family of
lawyers." From the second grade to halfway through the fourth, he attended the City Highschool in
Maastricht with André Rieu. Best friends, until their mentor decides they should do something else and
breaks them up. Oostwegel goes to the HBS; Rieu to the Episcopal College in Sittard. "Even then he said:
Later I will become rich with my violin."
André Léon Marie Nicolas Rieu grew up between pianos and harps. "When I was with him in his parental
home on the Jeker (river), I remember that we often had to be quiet because his father, who was the
conductor of the Maastricht Symphony Orchestra at the time, was making music," says Oostwegel. André
has been taking violin lessons from the age of five. He is brought up on difficult symphonies and
complicated scores. Rieu senior has completely mapped out his son's lifeline and after a tough classical
education in Brussels, the young André will play with his father in the later Limburg Symphony Orchestra
(LSO). But André wants more. He wants to entertain people and established the Maastrichts Salon
Orchestra, the forerunner of his Johann Strauss Orchestra. With this he brings a carnivalesque repertoire
with cheerful waltzes and operetta melodies.
Dinner Dance
"When I came back to Limburg and opened restaurant Erenstein in Kerkrade, I asked him to perform
during a dinner dance," says Oostwegel. "I wanted to set up as many tables as possible and sell place
settings, so there was hardly room for a stage. It barely fit a piano. André said: 'Where should I stand
then?' I said: you have to walk around in the audience with your violin. That caught on and not much later
he performed in the Wijngracht theater." In 1975 Rieu married his childhood sweetheart Marjorie
Kochmann, whom he met when he was thirteen and she was fifteen. The couple has lived in Daalhof
(district of Maastricht) for years in a semi-detached house. Her Jewish father, who fled Germany in 1932
with only five hundred 78 rpm records under his arm, has an important influence on him. Through him he
became acquainted with romantic evergreens such as Pizzicato Polka and G'schichten aus dem
Wienerwald. In 1989 he decides to leave the LSO for good. "I thought: I will not do this until I am sixty-five.
It was high time for something new, for something different", says Rieu in 1991 in an interview with The
Limburger. It's not an easy decision. "I come from a classically educated family. There was no room for
lighter work." They were not happy at home. The already troubled relationship with his parents became
even worse. "My father was only concerned with himself," he would later say. "And my mother was
possibly even worse." Father Rieu dies in 1992; his mother twenty years later. Mother and son did not
have contact for years. She never attended one of his concerts. The relationship is also not always good
with some of his siblings (there are six of them).
Ajax
The international breakthrough came in 1995, when Rieu played his adaptation of Dmitry Shostakovich's
The Second Waltz in the center of the Amsterdam ArenA during halftime of Ajax against Bayern Munich.
The song was on the charts for thirty weeks. André Rieu Productions grew into a multi-million dollar
company with 120 employees. Rieu, who plays on a 1732 year old Stradivarius, sold more than 32 million
albums worldwide. He is one of the most important Dutch export products and most successful male artist.
Since 2002 he has lived with his family in the castle-like "Huis de Torentjes" in the Sint Pieter district of
Maastricht. His orchestra members have remained loyal to him all these years. He sees them as family.
"He is the Pater Familias (Father of the Family)" says violinist and carillonneur Frank Steijns, who has
been working with him for thirty years. "I started when the Johann Strauss Orchestra still consisted of
thirteen people and we played 35 concerts a year." The turnover is small. Not even a handful of artists
have left the company in recent years. Not even during the corona pandemic. Steijns: "He could have said:
just apply for corona support and then we will see each other again in two years. But he didn't. Not now
and not when he almost went bankrupt in 2018 as a result of a very expensive tour with the completely
rebuilt Schönbrunn Castle. We noticed, of course, that he was stressed, but he never burdened us with
that."
In love
That Rieu cares about his people is also apparent when he and Steijns are standing at the baggage
carousel at Dublin airport during a tour in 2014. He said: "You look unhappy. What is going on?" Steijns
says that he is in love with mezzo-soprano Madieke Schoots, who performed several times as a guest
vocalist with the orchestra. But I saw no future in it, because I was always on tour. André said: "Call her
and tell her that I offer her a one-year contract." In the meantime they belong to the couples within the
orchestra.
But André Rieu is also a perfectionist and demanding. "He demands 100 percent effort, that's right. But he
also understands if circumstances prevent you from performing at the top of your abilities," says Steijns.
After the pandemic, in which the performances of Rieu and his orchestra were discontinued, the concerts
were caught up quickly this year. "It's a tough schedule. Recently we did six concerts in six days in six
different countries." Rieu will play a home game next weekend and the weekend after. Then the Christmas
concerts in the MECC are on the program. Steijns: "I thought at first: he will take it a bit easier. After
corona everyone will understand that we perform a little less big. But no, it's big, bigger, biggest again.
With two ice rinks and a gospel choir."
Cakes
For a moment it seems that Rieu has found another hobby. During the pandemic, photos of Rieu baking
cakes popped up on Instagram. He poses with a broad smile with his baking as if nothing is wrong. "But in
the meantime he fought like a lion to keep his orchestra together," says son Pierre Rieu. Together with
mother Marjorie and André, he forms a trinity which is the cork under the family business. Marjorie, who
has been doing the merchandising for years and writes lyrics for and about her famous husband, is taking
it easy these days. Their eldest son Marc has taken over part of her activities. She never went on tour
anyway. "She doesn't like to travel." Her role should not be underestimated, says Pierre, who will join the
tour as business director. "Of course we sometimes have a difference of opinion. But we solve that in
harmony, to stay with the music." His father is a real family man, he says. "He wants to give his children
and grandchildren everything he didn't have before. And he goes very far in that." When asked how long
his father will continue to perform, Pierre Rieu says: "He is not thinking about stopping yet. Why would he?
What should he do then? Count geraniums? He is living his dream and wants to continue doing so for as
long as possible."
Classics in Columbia.
(Voice-over: Ivo Niehe)
Episode 3 of the real-life series "Welcome to my world" 4. Duration 50 minutes.
There is no place like home.
(voice-over: Ivo Niehe)
Episode 4 of the real-life series "Welcome to my world" 4. Duration 50 minutes.
The Limburger, December 10, 2022, by Ivar Hoekstra. Translation: Ineke, assisted by Sonja Harper.
How does André Rieu himself celebrate Christmas?
"Even if I could make a million, the violin will stay in the case at Christmas"
From Saturday 10th to Sunday 18th December, the MECC will again be dominated by André Rieu's
Christmas concerts, but how does the maestro actually celebrate Christmas himself?
"I love cooking very elaborate meals for the family and watching Christmas movies with Marjorie
like 'Miracle on 34th Street', the violin stays in the case both days!"
Do you cook yourself at Christmas and do you celebrate it with the whole family?
"I love to cook, especially at Christmas. Normally we eat quite soberly and I pay particular attention to that
we eat healthy. Home-grown vegetables and such. But at Christmas the children and grandchildren come
to dinner, and then I like to cook very elaborately. Then you definitely need a delicious dessert, preferably
with glitter, fireworks and stars".
Is there a Christmas tree in the Rieu house? And is that a real or an artificial tree?
"Yes, we have a Christmas tree. There is a real tree outside on the terrace and an artificial tree in the room,
but it is so incredibly beautiful that you don't notice it. Marjorie decorates it every year with great feeling
and style. We have beautiful baubles, cherubs, snowmen, etc. Some are very old, all inherited from her
parents. And I also brought a lot from the road, from Dresden, Vienna, Heidelberg, England. All really very
special. That Christmas tree every year means a lot to us. We think it's a wonderful time and have the
greatest difficulty to take it down again."
How does Christmas make you feel?
"Christmas is also always a time for memories for me. As a boy I used to sing with my brother Robert as
'Kräölke' (choir boy) in the choir of St. Servaas, conducted by Benoit Franssen. Christmas was the highlight
of the year, especially Midnight Mass. I still remember that after Mass, the faithful turned to the choir and
applauded. What a great feeling that was! I think that in the beautifully decorated church, with priests in
expensive robes, lots of incense, candles and music, my sense of theater was born. I loved it!"
It's the time of the pop Christmas songs on the radio, such as 'Last Christmas' by Wham and 'All I
Want for Christmas Is You' by Mariah Carey, are you a fan of those too or do you prefer the more
classic Christmas songs?
"Of course I especially like the Christmas music from the past. Songs like Silent Night, Minuit Chrétien, The
Holy City… all beautiful. But there are also nice modern Christmas songs. We just released a new
Christmas CD, "Silverbells". It contains old English Christmas carols, with a beautiful male choir, as well as
cheerful modern songs or an Italian song by Schubert. I just like to mix styles. I also do that at my
concerts."
Do you have a favorite Christmas movie that is always watched in the Rieu house during
Christmas?
"Marjorie and I love spending the Christmas holiday – yes we do take that time off! – watching romantic
Christmas movies like "Miracle on 34th Street". Our favorite movie is a German movie: "Wenn wir uns
begegnen" (When we meet). It plays in a hospital on Christmas Eve, and all kinds of people end up there,
who are not actually sick, but are looking for warmth and other people. That is a wonderful movie."
How sacred are Christmas for you and your family, is there not secretly some music played?
"As long as I've been with Marjorie, Christmas is for the family! Even if I get a million, I'm not coming to
play. The violin stays in the case, haha!"
André Rieu's Christmas concerts will start on Saturday December 10 and last until Sunday December 18,
tickets are still available for some days. For tickets and more info: www.andrerieu.com
Christmas in Maastricht.
(Voice-over: Ivo Niehe)
Episode 5 of the real-life series "Welcome to my world" 4. Duration 50 minutes.
Episode 6.

Christmas in London (2016).
Limburger, December 8, 2022, by Ronald Colée. Translation: Ineke, assisted by Sonja Harper.
What if André Rieu does not turn 140?
Who then will succeed him? Four scenarios in a row.
André Rieu will start again on Saturday December 10th with a series of 5 Christmas concerts in the MECC.
Yet the violinist is now well into his seventies. He invariably dismisses all questions about the end of his
career, saying that this is far from being the case, because he intends to live to be 140 years old. But what if
that doesn't happen?
The chance that his health will play tricks on him seems small. The 73-year-old orchestra leader doesn't
exactly lead a rock 'n' roll life. He has stopped drinking alcohol, has his own sports coach and a personal
physician, both of whom travel the world with him. In addition, he no longer "cuts ribbons", but focuses
solely on his music and his organization: the 125-member Johann Strauss Orchestra, including the
permanent people behind the scenes, from dresser to financial administrator and from security guard to
caterer.
The chance that he stops himself is also negligible. Although he, his wife Marjorie and son Pierre have
agreed that if one of the three of them think that the quality standard is at stake, the orchestra will cease to
exist. The chance that the demand for his performances will decline worldwide is also zero. In the 35 years
of the Johann Strauss Orchestra's existence, the demand for its music has remained high. Despite all kinds
of crises. The fact that half a million fans chose to keep their tickets rather than ask for a refund during the
recent corona pandemic speaks volumes. But still: suppose André Rieu quits or – God protect him – dies,
what are the options? And how realistic are they?
Option 1: Someone from outside the orchestra takes over the management of the Johann Strauss
Orchestra.
The big question is who that should be. Because if someone could have approached his job in the past 35
years, that person would probably already be there. There is not one orchestra leader who comes close to
what Rieu has achieved. Guido Dieteren? He has been part of the Johann Strauss Orchestra long ago and
has also proven to be able to lead large orchestras. But he lacks one thing: Rieu's charisma. David Garrett
from Aachen (Germany) then? He is known as the fastest playing violinist in the world and is in fact an
international version of Guido Dieteren. A fantastic musician who looks good, but prefers pop with a beat.
Whether the Rieu fan is waiting for that? The British Dominique Seldis perhaps? An excellent double bass
player, since the "Maestro" programs (on Dutch TV), a fervent advocate of classical music in the
Netherlands and also using the same kind of humor as the Maastricht orchestra leader. Could be, but why
hasn't he managed to sell out stadiums, arenas or theater halls to date? The answer is probably: because
Rieu is more than just an orchestra leader. The Johann Strauss Orchestra is his product and he keeps that
product completely in his own hands. He writes the arrangements for the orchestra himself, takes care of
marketing and personnel policy, conducts all negotiations with record companies himself and books the
venues where he performs without the intervention of promoters. In other words: he does not outsource
anything. So whoever becomes his successor, it would already be difficult for him to replace Rieu in ONE of
those parts...
Option 2: Someone from within the orchestra takes over the leadership of the Johann Strauss
Orchestra.
The question then arises: who then? The first answer would be: his son Pierre. He knows all the ins and
outs. One 'small' detail: he is not a musician. A second option is violinist, pianist and carillonneur Frank
Steijns. Musical centipede, co-arranger and not unimportant: he is from Maastricht. He leads the new
Maastricht Salon Orchestra with which he has already performed for three thousand people in his city. Or
Manoe Konings, the clown of the Rieu orchestra? Who plays the clarinet, saxophone, bagpipes and guitar
and can also dance and sing? It also applies to them that taking over one of Rieu's tasks is already a
monster job. But apart from the question of whether they would and could do that, the question is whether
you should want to: pick someone from the orchestra and suddenly place him/her above the troops. In no
time you get a kind of Yugoslavia conflict, in which the country fell apart into all kinds of states after the
great leader passed away. The following also applies: would people attend, to go to the Rieu orchestra
without Rieu? Take a look at André van Duin. Suppose he would have died first and Frans van Dusschoten
or Corrie van Gorp (regular partners in the Van Duin shows) would have traveled through the country
without him. Would one soul come to it?
Option 3: The Johann Strauss Orchestra will cease to exist, but there will be reunion concerts,
tributes or spin-offs.
The chance that the Johann Strauss Orchestra will still take the stage when Rieu has proverbially put down
his baton is nil. The farewell of trombonist Ruud Merx, who passed away in 2016 at the age of 47, after
having been part of the orchestra for 22 years, has proven this. Half a year later, the orchestra still
collectively shuddered when the trombone solo presented itself in a piece. A loss that is still an open wound.
That is why there was initially talk that the orchestra would never perform again. So let alone that this would
happen to Rieu himself. That would be too emotionally charged for all the musicians and employees
involved who want to give people an evening of carefreeness to the outside world. And if such a tribute
were an explicit request from Pierre or Marjorie, even in that - highly exceptional - case it would remain with
one performance. But again: that chance seems nil. Because let's face it: the James Last Orchestra without
James Last or the Ennio Morricone Orchestra without Ennio Morricone, isn't that what it is? That's like
Queen without Freddie Mercury. Nice that Adam Lambert, and no matter how fantastic he does it, the real
fans still come for Brian May's solo. And also working with avatars or videos seems like a bridge too far. The
only thing that the Rieu fan could still indulge in after his final farewell could be the Maastricht Salon
Orchestra or spin-off performances by sopranos and other soloists. Or 'serious' classical orchestras who
want a piece of the action and suddenly decide on a tribute tour in order to draw full houses.
Option 4: When André Rieu stops, the Johann Strauss Orchestra also stops.
This is the most realistic scenario. When André Rieu stops, the Johann Strauss Orchestra also ceases to
exist. Compare it with our absolute greatest comedian, the late Toon Hermans. You can keep telling his
jokes or watching his videos, but to send someone else on stage to imitate his most successful
conferences?? Would you clap for that as a spectator? Probably not. Because here too, just like with Rieu,
the original cannot be matched. That would only get embarrassing. So let's just trust Rieu's words: he will
be 140. And if not, that's his fate and that of the Johann Strauss Orchestra.