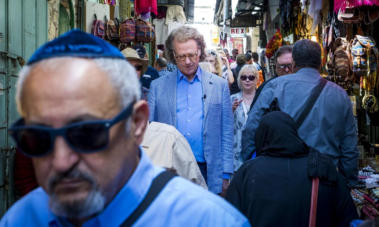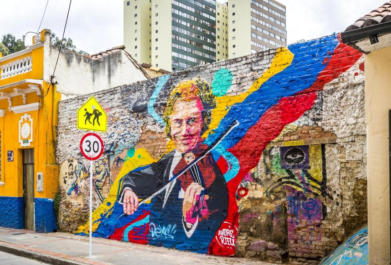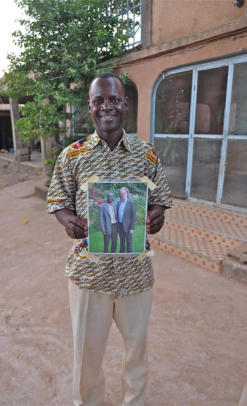 Boundlessly popular.
Supplement of "The Limburger". July 2, 2022.
Author: Rob Cobben. Photos: ARP and De Limburger.
Translation Ineke/John.
The Vrijthof concert series by André Rieu and the
Johann Strauss Orchestra start on Thursday 7 July
and end on Sunday 31 July 2022.
"For many, André Rieu is a
musical God".
André Rieu (72) will start a new series of concerts on the Vrijthof square in Maastricht next week. There will
be no less than 15 concerts, and fans from about 90 countries are coming to them. The Maastricht native
is world famous, from Argentina to New Zealand and from Japan to South Africa. Even in Burkina Faso,
where he himself has never been, they know who Rieu is.
September 2019. An Italian restaurant in Wanaka, a lovely town on the lake of the same name on the New
Zealand South Island. It is busy and the waiter asks if another couple can join us at our table. John (79)
and Betty (82) join. They come from a neighboring village and have a sheep farm and wine farm, they tell
us. When they ask where we come from and hear the answer "Maastricht", Betty exults: "That's André
Rieu's city. I love him". She turns out to be a big fan of the Maastricht violinist and leader of the Johann
Strauss Orchestra (JSO). She has already attended his concerts in Auckland and Melbourne and dreams
of ever seeing him perform in his home town, she tells enthusiastically before we can taste a bite of our
pizza turtufo.
It is not the first time that we have received enthusiastic reactions when we announce our origins known.
In the past, as a Dutchman abroad, you were immediately associated with Johan Cruyff, Ruud Gullit and
Marco van Basten (soccer players), nowadays it is increasingly about the waltz king.
Photograph
.
Even in Burkina Faso they know him. In a house in the village of
Méguet where we visited a few years earlier, Pierre Kaboré proudly
comes up an enlarged photo. He then poses with André Rieu. The
photo was made at his castle, a few days after the Vrijthof concerts,
says Kaboré. Then he takes us to a school bearing the name "Centre
de Formation André Rieu". Kaboré works together with the
Maastricht-Niou Committee, of which Rieu is patron. The orchestrea
leader has never been to Niou or Méguet, but a DVD of one of his
concerts has been shown to all inhabitants of the two Burkinabe
villages. And everyone thought it was wonderful, says Kaboré.
Europe, South or North America, Oceania, Asia and Africa; in many
places you will come across CDs, DVDs and posters of the
standalone violinist from Maastricht. If you walk through the
Colombian capital Bogota, you will even see murals of his smiling
face. The popularity of André Rieu, who broke through in 1994 with
The Second Waltz, an arrangement of a composition by the Russian
Dimitri Shostakovich, has risen to unprecedented heights. The end
does not seen to be in sight. Just a few figures: from the year 2000
until the beginning of the corona pandemic in 2020, the Maastricht
native and his orchestra have performed 1500 times in 35 countries,
from South Africa to Australia, from Japan to Peru.
Those concerts were attended by about 12 million people. His biggest show ever: in Melbourne, Australia,
in front of 38,000 fans. Of the 70 CDs and DVDs which Rieu and his orchestra have made over the years,
40 million copies have been sold worldwide. The concert registrations, which are regularly shown
simultaneously in 2000 cinemas in 60 countries, attract about half a million visitors each time. Not to
mention the videos on YouTube and compositions that can be found on Spotify and other streaming
platforms. The Limburg musician now has almost 9 million followers on Facebook.
Remarkable.
In the annual reviews of Buma/Stemra (the
interest group of music authors and music
publishers) about the export value of Dutch
popular music, Rieu is a constant factor. And that
can be called quite remarkable, says Sieb
Kroeske of the research agency "Perfect and
More" in Hilversum, which compiles the annual
lists on behalf of Buma/Stemra. "The value and
contribution of Rieu form a large part of the total
picture," he says without mentioning specific
amounts. Rieu is an outsider in the list, says
Kroeske, because about ¾ of the export value of
Dutch music is "dance" and comes from artists
such as Sam Feldt, Tiësto, Martin Garrix and
Armin van Buuren (all DJs), to name a few.
And also because of his music, Rieu is unique. There is no other artist, not even internationally, who
competes with him or comes close to him. Very special!" In the top touring list of the American "Billboard
Magazine", (an overview of the most visited tours through the United States), you also see the name of the
Limburger also regularly popping up, among those of pop stars such as Elton John, Justin Timberlake, Ed
Sheeran and Lady Gaga.
Professor Peter Peters of the Maastricht University is not surprised by this mega success. A few years ago
Peters and his colleagues Maaike Meijer and Jac van de Boogaard, researched the "Phenomenon Rieu".
The trio followed him for a year and a half and wrote a book: "Rieu, maestro without borders" about it. "He
makes the visitors an integral part of the event. Makes them and the place where they live, important. In
Istanbul, for example, he makes room for Turkish musicians and Turkish music during his concert. The
orchestra then plays very restrained, so that the audience can sing along at the tops of their lungs. I was
there and thought: "Who's on stage here? A wonderful turnaround! And he does that in every country
where he performs", says the professor of "Innovation of Classical Music". And there's something else,
says Peters: "The performances are interactive. He makes jokes and asks the audience questions,
generating a massive response. Visitors see themselves on many screens in addition to the performing
musicians. And if thousands of people around you start clapping or swaying, yes, then you will
automatically do the same." The professor mentions more factors that contribute to Rieu's immense
popularity: his charisma and perfectionism, the professionalism and years of experience of his musicians
and the organization he has built around the orchestra. And his approach of course. This betrays a good
eye for the needs of the experience society. He plays with the moods of the audience. And that knows
exactly what to expect on such an evening: music, beautiful decors and a performance that makes them
happy. Rieu knows how to get everyone involved in the magic. I think it's amazing how he does that and
always finds the right balance." According to co-author Maaike Meijer, Rieu is the epitome of the current
experience culture. She sees the fact that thousands of people go crazy with him as a counter-movement
against the individualization that has gone too far. "With large groups of people, there is a need for
collectivity that must be experienced en masse. Like at such a concert with a lot of emotions on a square.
People let their tears run free and even fall into each other's arms. It is all allowed and possible".
Sentimental fiddling.
There is also criticism. Purists accuse the violinist of
"sentimental fiddling" with classical music. Professor
Peter Peters does not that is right. "The Royal
Concertgebouw Orchestra" or the "Wiener
Philharmoniker" want to stay as close as possible to
the scores of the composers. The JSO mainly
responds to experience. It's comparing apples to
oranges. In my opinion both cultural expressions
can coexist perfectly." Professor Peters, who is also
director of the "Center for Innovation of Classical
Music" affiliated with the Maastricht University, notes
that more traditional orchestras are slowly shifting.
"They are trying new things. For example, "Philharmonie Zuid Nederland" recently held a symphonic flash
mob in the "Entre Deux" shopping center in Maastricht. Professional musicians and amateurs gave an
unannounced performance, in an effort to attract a wider and younger audience. André Rieu has really
been a pioneer in that area."
Almost touchable.
Anyone who has ever been to one of the Limburger's concerts on the Vrijthof knows the scenes. Fifteen
minutes before he takes the stage, Rieu appears on the platform of the Theater on the Vrijthof. For minutes
he poses for frenzied fans from all over the world, who jostle each other with smartphones, tablets and
cameras to get the best picture. For a while, their idol is almost touchable. Similar scenes are also taking
place abroad. In Latin America, for example, hundreds of fans gather in front of the hotel where the
musician and his orchestra spend the night. "We always have to leave on time, because it sometimes
takes half an hour before André reaches the bus. He talks to the people, takes his time with them. "Taking
pictures is greatly appreciated", says

producer Mike Wiseman.

He worked at the Sky Arts television
channel when he was allowed to make a program about Rieu in 2013. "Sky Arts had acquired the
broadcasting rights to a number of concerts. To introduce Rieu to the British public, I was allowed to make
a documentary about him. I didn't know André at all. I didn't know what I was seeing while filming. His
popularity is huge. The first thing that came to my mind was: "He's the Mel Gibson of the violin". Mike
Wiseman refers to the popular American-Australian actor, director and producer. The United Kingdom fell
in love for the charismatic musician. The British love the music of André Rieu very much. And his humor,
which is sometimes quite naughty.
Climbing the stage.
Meanwhile, the filmmaker and producer now works for Rieu's company. He follows the maestro with his
camera wherever he performs. He uses the recordings for the popular documentary series "Welcome to
my world", which is broadcast on Dutch television by broadcaster AvroTros. Wiseman still falls from one
surprise to another while filming. In Bogota, the power went out. People had to wait 90 minutes before the
problems were solved and the concert could continue. The fans wrote texts on signs like: It doesn't matter
how long it takes, we're waiting for you, André. A little boy started playing a plastic flute. André invited the
boy the next evening as guest of honor, called him on stage and gave him with a golden flute as a present.
The people went crazy. In Dublin, where we were recently, after the intermission the audience
spontaneously started singing "It's a long way to Tipperary" and "Cockles and Mussels", (Irish traditional
songs), for André and the orchestra members.
Sometimes women try to climb onto the stage to touch him. These are scenes that you also see with rock
stars. For many people, young and old, he is a musical God. Mike Wiseman often speaks with him after a
show. He is regularly told that attending a concert by Rieu is at the top of their bucket list. An emotional 95-
year-old woman once said to me: "Now that I have seen him, I can die piecefully…
Rieu is still hoping for shows in India and Greece.
Facts and special facts about André Rieu.
•
André Rieu Productions, the renowned violinist's company, employs about 120 people. Not only
musicians, but also sound and image technicians, costume designers and office staff. He also works
with 100 freelancers. During tours there is always their own kitchen- and medical team with them.
•
For foreign tours, the musician does not work, as most artists do, with promoters. He controls
everything himself.
•
André Rieu's violin, a 1732 Stradivarius, is brought to Vienna twice a year under strict security
measures for maintenance by violin specialist Marcel Richters.
•
In 2016, the German magazine "Bild Zeitung" published a special 100-page supplement about Rieu,
his family and the orchestra, with an exclusive CD.
•
After he had slept well on a red sofa in Mannheim, Germany, Rieu had 4 copies made. On every tour
there is a sofa on which the orchestra leader occasionally takes a nap.
•
Readers of the opinion magazine "Time" chose the waltz king in 2003 as one of the 20 most important
Europeans.
•
Rieu is the best-selling Dutch artist of record company Universal.
•
Rieu and his orchestra have performed in the Netherlands, Germany, Belgium, France, United
Kingdom, Ireland, Denmark, Sweden, Norway, Poland, Czech Republic, Slovakia, Hungary, Portugal,
Spain, Italy, Austria, Switzerland, Serbia, Croatia, Macedonia , Slovenia, South Africa, China, Japan,
Australia, New Zealand, Israel, Argentina, Chile, Colombia, Peru, Brazil, Mexico, United States and
Canada. He would like to add India and Greece to this in the short term, he says when asked.
•
He is most popular in Australia, Brazil, Germany, the Netherlands and the United Kingdom, selling over
100,000 tickets each time he performs in one of these countries.
•
The British channel Sky Arts was renamed "Sky Arts Rieu" in 2013 and broadcast concerts by the
Maastricht native for two weeks, 24 hours a day.
•
In America, the Public Broadcasting Service (PBS), the largest non-commercial television network in
the United States, received donations from viewers by broadcasting Rieu's concerts in marathon
sessions.
•
The concerts at the Vrijthof in Maastricht provide the city with more than €30 million annually. This is
evident from the research that "Zuyd University of Applied Sciences" did three years ago.
•
The Maastricht resident won the Conamus/Buma Export Prize 7 times.
•
The orchestra leader also has his own travel agency: André Rieu Travel. In the first half of this year,
32,000 fans made a booking there.
•
The travel agency also offers VIP packages for the concerts in Maastricht, including guided tours in his
castle on Sint Pieter, the recording and rehearsal studio of the waltz king in Amby (a district of
Maastricht) or behind the stage at the Vrijthof square. You have to dig deep into your pocket for that:
€ 869.00 per person.
For the fans who are interested to read more about the investigation of the "Rieu Phenomenon" and the
book presentation ("Rieu without borders"), by the three scientists of the Maastricht University in 2015:
click HERE.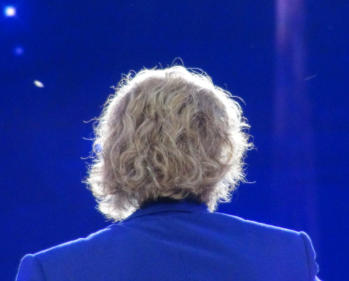 From Limburg TV: "Limbourgeois".