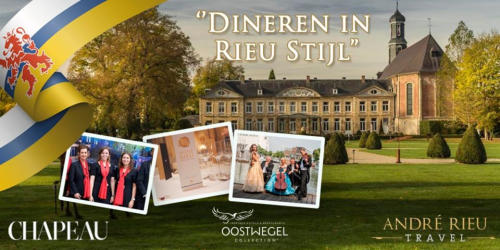 August 7, 2020.
Dining in Rieu Style.
The André Rieu Travel team
organizes a corona proof
four course diner arrangement
in Chateau St. Gerlach on
September 4, 5,12, and October 3,
2020,(€ 95 p.p.), with music of the
Maastricht Salon Orchestra.
Mail: travel@andrerieu.com
Click HERE for information at their
website.
Enjoy a luxurious four-course dinner, together with your partner, family and friends, with live music
performed by a few members of André Rieu's Johann Strauss Orchestra!
The team of André Rieu Travel and Château St. Gerlach combined their efforts and makes sure that you
have an unforgettable evening! This unique evening experience is also very suitable for your business
relations, employees or colleagues.
In Valkenburg, in beautiful Ingendael, 10 minutes drive from Maastricht, is Chateau St. Gerlach. An estate
full of memories and with overwhelming beauty and grandeur. The former monastery and leasehold have
been transformed into hotel rooms and suites, homely hotel apartments and a restaurant.
At the beginning of 2017, Château St. Gerlach was expanded with the St. Gerlach Pavilion, an addition that
perfectly compliments the centuries-old estate. The materials used are inspired by the surrounding Limburg
countryside: marl, bluestone and oak. On a beautiful summer evening, dinner is served outside where you
have a beautiful view of the St. Gerlach estate.
The dinner is served in St. Gerlach Pavilion when the weather conditions are not suitable. The St. Gerlach
team cooks with ingredients from their own country estate and from the region.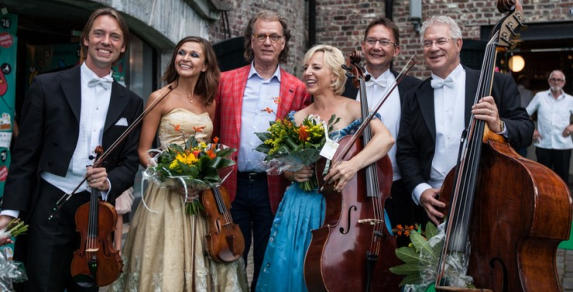 Programma
At 6 pm you are expected at Château St. Gerlach and be welcomed by an André Rieu Travel host.
Your table will be assigned to you and it's time to enjoy to the fullest!
At 6.30 pm the four-course dinner, with live music played by a number of members of the Johann Strauss
orchestra, will start. This select group together form the Maastricht Salon Orchestra (MSO). André Rieu
started the MSO in 1978. He performed with the MSO for about 18 years. But André wanted more and in
1987 he founded the Johann Strauss Orchestra in addition to the Salon Orchestra. The rest is history.In
2016 André introduced the new MSO consisting of five members of the Johann Strauss Orchestra.: Frank
Steijns (piano), Cord Meyer-Luesink (violin), Tanja Derwahl (cello), Gosia Loboda (violin), Roland Lafosse
(double bass). With the original costumes as worn during concerts, they provide an unforgettable evening
with beautiful music during dinner.
Including
• Personal welcome by an André Rieu Travel host
• Four-course culinary dinner with live music played by a few members of the Johann Strauss Orchestra.
• After dinner coffee & tea
• Parking
Excluding
• Drinks during dinner
• This day package does not include hotel accommodation!*
• Travel and Cancellation Insurance (not possible via André Rieu Travel)
• Booking fee € 10 per booking
* Would you also like to book a hotel stay in the beautiful Château St. Gerlach? This can be booked on
request and based on availability via André Rieu Travel via 0031 (0)85-4880681 or via
travel@andrerieu.com .
Corona Measures:
In order to guarantee the health of our guests and the health of our teams, we have made a number of
adjustments as determined by the Dutch government. André Rieu Travel assures you that it is our top
priority to guarantee your and our health and safety.
André Rieu himself will not be present during this arrangement.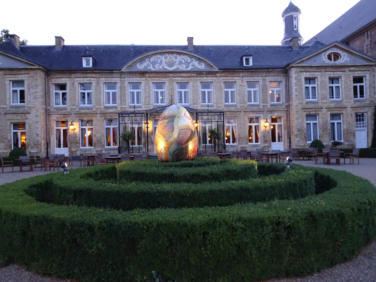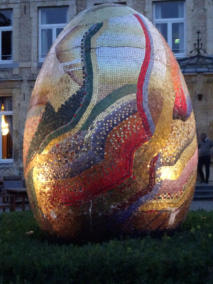 Ineke and Ruud attended the 3-day package in Hotel v. d. Valk, Maastricht, in July and August 2020,
including the streaming of the newest cinema film "Magical Maastricht" in the André Rieu Studios.
Click HERE to read their report.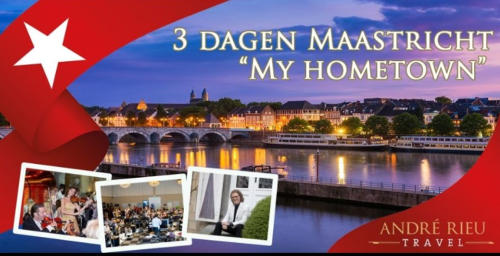 Click HERE to read more about the history of the MSO (Maastricht Salon Orchestra), started by André Rieu
in 1978, and brought to live again in 2016.


André Rieu Orchestra members to start with mini concerts.
Article 1Limburg, Chapeau Magazine, August 6, 2020. Interview Frank: by Jo Cortenraedt.
Translation by Ineke/John. Duration of the video: 2 minutes.
Now that André Rieu and his Johann Strauss Orchestra are still unable to perform due to the corona
pandemic, the Maastricht orchestra leader has opted for a number of his musicians to perform mini-
concerts.
These are performed by five musicians who together form the Maastricht Salon Orchestra. The concert
series opens the first weekend of September at the Château St. Gerlach.
New version
Rieu himself does not play with them, but together with these musicians under the direction of violinist and
pianist Frank Steijns he has composed the repertoire. The current Maastricht Salon Orchestra is a new
version of the ensemble, with which Rieu started his international career in the late 1970s.
Pavilion
Much of the repertoire dates from that period and the musicians wear the original dress of the Johann
Strauss Orchestra. The music will be played outside during an alfresco dinner on the St. Gerlach estate.
In case of bad weather, all will divert to the pavilion on the site, with strict observance of all corona rules.
Fans
Rieu hopes that this ensemble will be able to perform a series of concerts this autumn. That still ensures
some turnover, although it is only a small part of his large orchestra's earnings. "Even more important is
that we as musicians can finally perform again and that our fans also get to hear and see us again," says
Frank Steijns.
Too uncertain
The chance that the entire Johann Strauss Orchestra will perform anywhere this year is not that great.
André Rieu said last month that he hoped for a tour to Israel in November, but since the infections there
have risen sharply, that chance has become small. "We hope that we can perform together again as soon
as possible, but we have to await the medical developments," says Steijns. "The situation is still too
uncertain."
On September 12, 2020, Ruud and Ineke joined a dinner/music arrangement by the new Maastricht
Salon Orchestra, organized by André Rieu Travel. Our hostesses were Diana and Joanne and everything
was perfect as usual. Linda Custers has currently replaced Tanja Derwahl in the MSO. Tanja is still
unable to play the cello, due to a persistent shoulder injury. But the Travel team assured us that besides
her injury she is doing well. The location of the event was the Gerlach pavilion at the beautiful St. Gerlach
Estate in Houthem/Geulhem, near Valkenburg. No meet and greets afterwards, due to corona.
On October 3rd 2020 another dinner is planned. If interested, mail: travel@andrerieu.com
We booked an extra night at the Gerlach Hotel and enjoyed a full weekend in the sunny southern part of
Limburg. We took a walk through the nature reserve of Ingendael, along the banks of the river Geul,
where wild and half-wild Polish Konik horses and Scottish Galloway cows walk free.
Duration of the video: 14 minutes. Translation: Ineke/John. Subtitles: Ruud.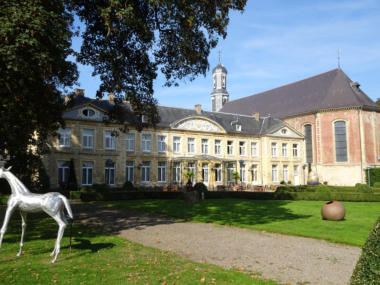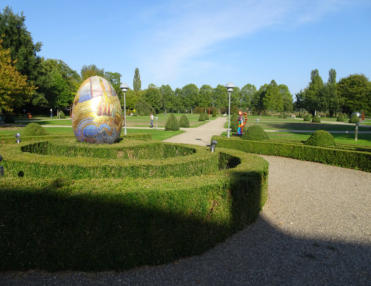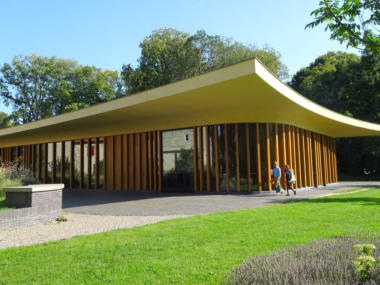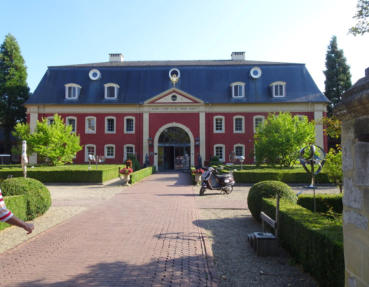 Restaurant (former convent) with church.
Park-gardens with pieces of art.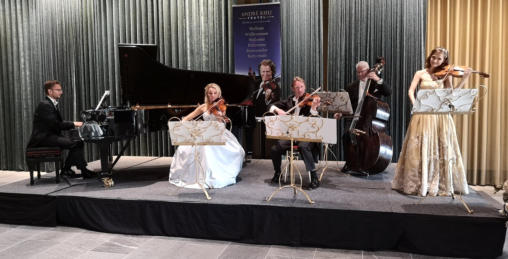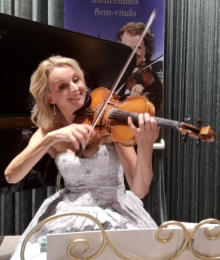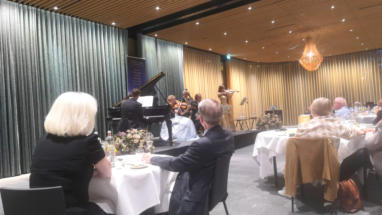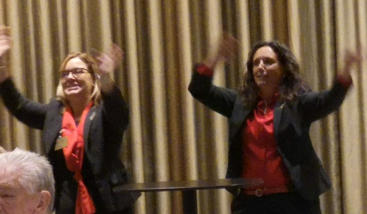 The new Maastrichts Salon Orchestra with Linda Custers. Frank introduced Roland Lafosse being a
member of the MSO from the beginning, but we think he was mistaken. Jean Sassen was the double
bass player right from the beginning (1978) and Roland joined the JSO in 1994.