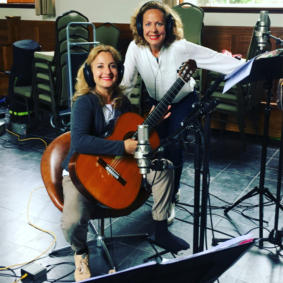 December 2019.
Duo Almeh Luz
recorded its first album:
"Les Chemins de l'Amour".
The CD will be released in May 2020.
www.carlamaffioletti.com
www.almehluz.com
January 15, 2020.
Great news for the fans who are in Maastricht for the André Rieu concerts!!!
Carla and Jutta announced a performance / meet and greet / signing session in Maastricht
on Sunday July 12th 2020. Location: Cellebroederskapel. Time 3-4 PM. Buy tickets on
https://www.ticketkantoor.nl/shop/almeh-maastricht
The concert has been postponed to July 4, 2021. To follow Carla's career, go to her website.
https://www.carlamaffioletti.com/calendar/
April 2020.
Carla Maffioletti
gave "Breathe and Greet" Opera Singer Exercises on every Sunday afternoon during
20 minutes. Live from her living room in Limburg, the Netherlands! To make our lungs expand, calm and
feel strong! Thank you Carla!
Attention to the fans who will be in Maastricht in July!
(All concerts canceled, also Almeh Luz).
Duo Almeh Luz.
Presentation of the new album/signing session.
Carla Maffioletti and Jutta Maria Böhnert,
organize a performance/meet and greet/signing session
on Sunday July 12, 2020, from 3 - 4 PM
in the "Cellebroederskapel", Maastricht.
To buy tickets, click
https://www.ticketkantoor.nl/shop/almeh-maastricht
April 21st 2020:
All André Rieu concerts in July in Maastricht canceled due to worldwide Corona Virus.
May 2020.
New CD and fun videos by Carla and Jutta.
All ALMEH LUZ concerts in the Netherlands, Germany, Portugal and the UK have been canceled too, due
to the corona virus. After the "Breath and Meet" exercises on Instagram, Twitter and Facebook, Carla and
Jutta treated the fans to other very funny videos. They created an inventive way to present every musical
track of their new CD "Les Chemins de l'Amour" (the paths of love).
The album is available on www.almehluz.com on CD and MP3 Download.
For fun and to promote the new album, they created 11 ALMEH COOK videos: cooking combined with
music. 11 Recipes for 11 songs, one recipe for each song on the album, flavour and temperament related,
straight from their kitchen in Limburg, the Netherlands. You will be able to find the cooking sessions, and
the sound tracks at Almeh Luz Instagram Account and on YouTube. On the AlmehLuz website under "blog"
you may find the recipes. Here we post "ALMEH COOK" recipe 1: the drunken chicken.
The song is "El Vito". Enjoy!!
Sound track:
1.El Vito
2. Les Berceaux
3. Les Chemins de l'Amour
4. En Jerez de la Frontera
5. Ala
6.Thy hand Belinda, when I'm laid in earth
7. Modinha
8. Alfonsina y el Mar
9. Je ne t'aime pas
10. Surabaya Johnny
11. Azulao.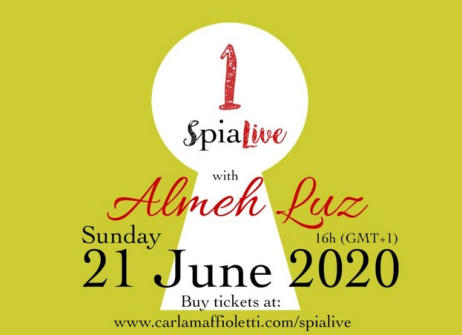 May 2020.
NEW!! SPIA LIVE:
Live online concerts and events with ticket sale,
bringing joy to a worldwide audience and valuing the performers.
Carla Maffioletti on Instagram: "COVID-19 changed the world. We are forced to rethink our lives, reinvent
ways to create and survive. The way we are dealing with culture and social media change. That's why I
created the SPIA (Spy) platform of Live Broadcast with ticket sale, to promote a high quality performance
for a worldwide audience. SPIA Live is a web keyhole to bring joy to our fans and a way to support Art and
it's Artists. Do you like to know how it works? Click on www.carlamaffioletti.com/spialive to go to my website
for more information. There are 3 ticket options. We will start a series of 5 live broadcasts in 2020 via a
secret YouTube link. The first one will take place on June 21, at 16 h / 4 PM (Amsterdam time is Greenwich
Mean Time + 2 (GMT+2). Mark your calendar!"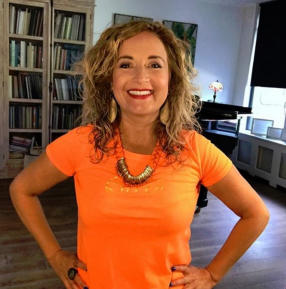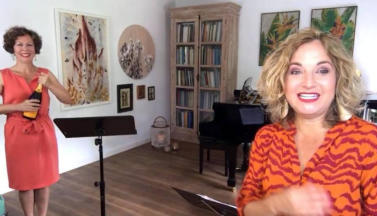 June 21, 2020.
The first
SPIALIVE
online concert has taken place and was a big
success. The second will be aired on the secret YouTube link
on Sunday July 12th 2020, 15:00 h. Amsterdam time,
with a special guest: the Belgian accordion virtuoso
Ludo Mariën.
So buy your ticket to experience a new kind of house-performance:
Serenata na Varanda.
https://www.carlamaffioletti.com/spialive/
Photo below by Sonja Harper, USA.