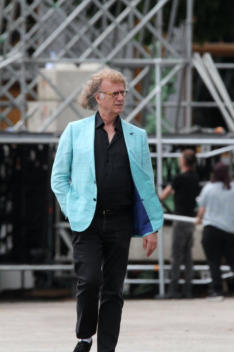 July 1, 2022. André, checking the building up.
The entire world can watch via the web cams on the Vrijthof.
The first concert will take place on Thursday July 7th.
Photos: Julia McCarthy-Fox.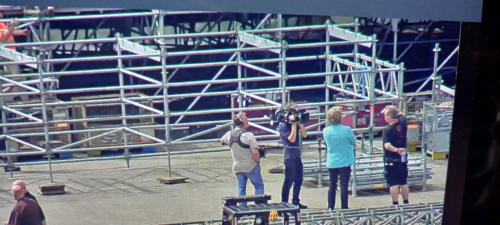 The 2022 concert, the encores
Thanks once again to Michel Fizzano for creating these images, being behind the
scenes and making a live selection of all available camera images.
We have added some scenes taken from our hotel room.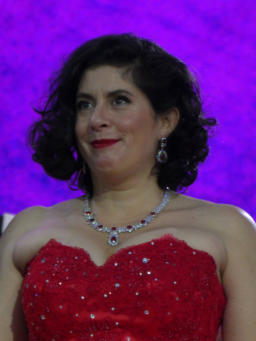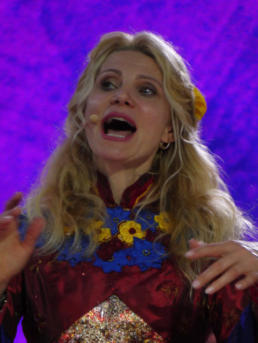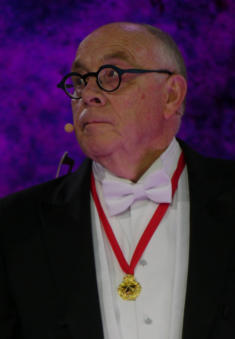 Dorona Alberti, special guest, Anna Reker choir, Ber Schellings, Maastrichter Staar soloist.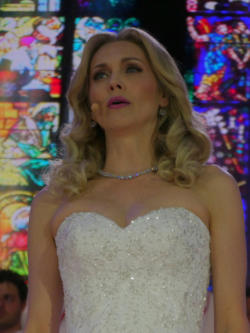 Micaëla Oeste, Madieke Schoots, Anna Majchrzak,
Platin tenors.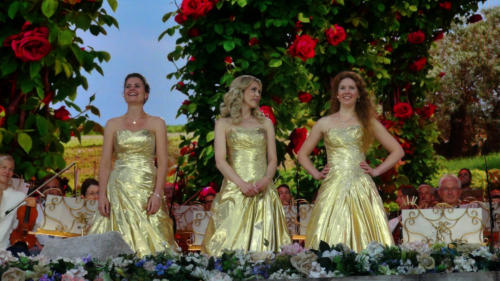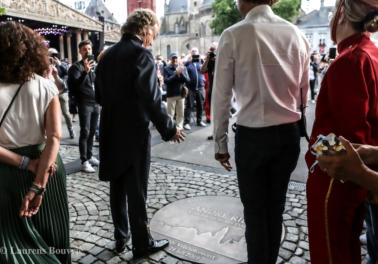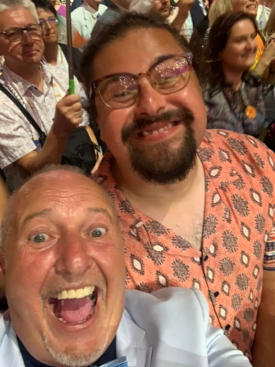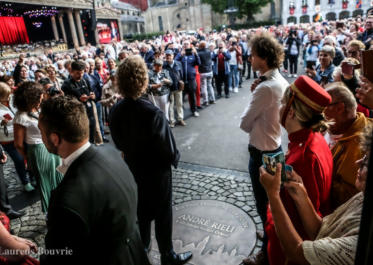 Andre's plaque on the Vrijthof. Photos: Laurens Bouvrie.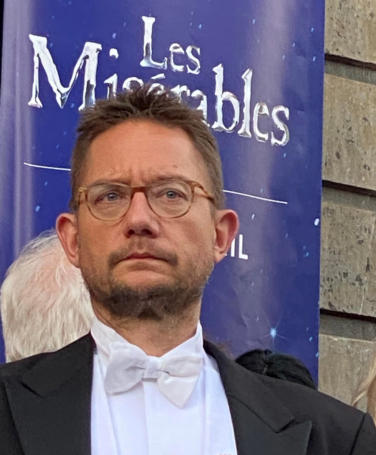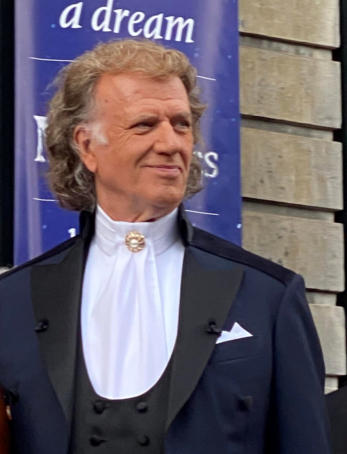 On the steps in front of the Theater on the Vrijthof.
A dreamer and someone looking miserable. Priceless photos, by Liz Baker.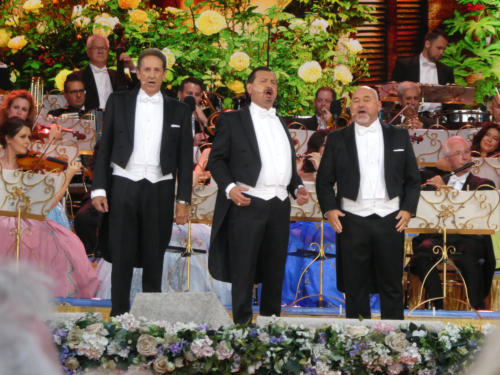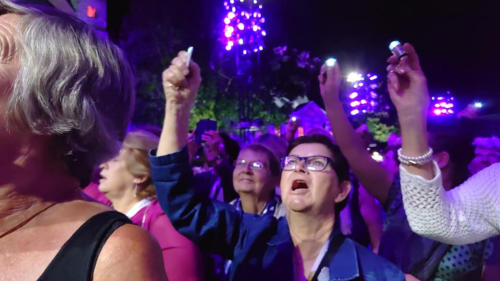 After the concert there was a performance of the Great "Harmony Parlor" Choir.
The "André Rieu fans Harmony Parlor" is one of the biggest English speaking fan groups on Facebook.
The choir was conducted by Adele Geritzen.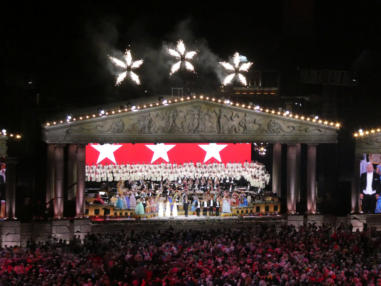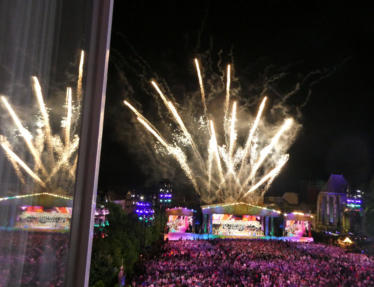 In the Maastricht city center you will find several more big screens to follow André's concert.
This is the little St. Amors square. You see how people party in the streets without having purchased
a ticket. The video was created by Mathy Engelen.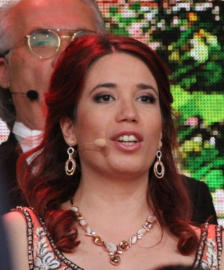 We spotted a new face in the
choir. Temporary (?)
replacement for Belinda Evens.
Her name is Vasiliki Chanou.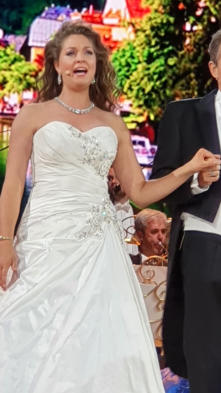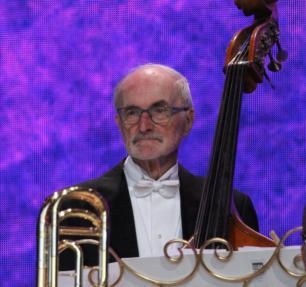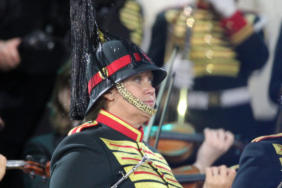 Donij van Doorn was missed
for some time. Happy to see
her back!
This is Marcel Falize's
wife Nicole, playing in the
brass band "Edelweiss".
Jean Sassen already played with André
since the Maastricht Salon Orchestra. He
has been retired for a long time, but loves
to join the orchestra again in Maastricht.
Photos made by
several fans.
Maastricht singer Dorona Alberti is this year the special guest at
the Vrijthof concerts: 'Then Rieu called and my holiday expired' .
Limburger, 15 July 2022, by Ronald Colée, photo by Mitchell Giebels. Translation Ineke.
"Gare du Nord" (Jazz band) singer Dorona Alberti is this year's special guest
during André Rieu's Vrijthof concerts.
A 'Mestreechs girl' who has lived in Rotterdam for years, who celebrates success as a singer of "Gare du
Nord" and suddenly shows up as a special guest at André Rieu's Vrijthof concerts. That's how strange it can
be and that's how strange it went for Dorona Alberti. "It is wonderful to have such a large orchestra behind
you and not to have to hold back, but to be able to go all the way." No, she had never attended a Rieu
concert in the city where she grew up. She only knew the Vrijthof concerts from the images on TV and the
many waltzes. "Let that be the only style of music I've never sung." Dorona Alberti can laugh about it herself.
About six weeks ago, the 47-year-old singer saw an App pop up from an unknown sender: 'Can we call
today or tomorrow? Pierre Rieu'. "Then I immediately replied: 'Yes, now?' It turned out that they were in
Prague and the subject of special guest had come up. The intended artist had canceled, after which violinist
Frank Steijns had dropped my name. "Dorona who?" was the response. Then Frank put his phone on the
table with a video of my performance with Eva Jinek (TV talk host) with part of the Metropole Orchestra – in
which I performed a Bond number – and Pierre contacted me immediately."
Sailing holiday.
The question whether she could and wanted to perform with the Johann Strauss Orchestra for fifteen
evenings, completely overwhelmed her. "I never go on holiday far, but coincidentally this year I would go on
a sailing holiday to Greece with my husband and 11-year-old son, along with another family. I couldn't just
cancel that, could I? But a day later I called that of course I could. Now Diederik and Samson are going on
holiday alone and I am following them for the last week." She simply couldn't let go the opportunity to be a
part of such an insane production. "Grand and captivating. I like that. And these concerts are certainly grand
and compelling. As a singer you don't often get the chance to unabashedly unpack, that's why I usually put
on my shows myself. Because it is wonderful to have such a large orchestra behind you and not to have to
hold back, but to be able to pull out all the stops. And speaking of a large orchestra, this is a large orchestra.
Two hundred people on stage. To enjoy."
Jazz album.
Yet the Limburger, who has lived in Rotterdam for 27 years, realizes that she is still a blank slate for many.
And that while as a singer of "Gare du Nord" with Sex 'n' jazz she has the best-selling jazz album in the
Netherlands on her name with almost 750,000 copies sold. "People still think we come from France. And
nobody knows what the name of the singer is." Laughing: "Except Frank then."
She was fourteen years old when she first recorded a record in a studio in Hamburg. Industrial metal. "After
celebrating Carnival for three days. With a lot of noise behind you and a piece of paper with text on it in
hand. 'That's all? Oh, okay then we're going to make something of that.' And that's actually still how I
approach music. Although I am of course lucky that I have an instrument with my voice that can do a lot and
does what I want."
Ugly Note.
Alberti – "No, not related to them (a famous Dutch family of singers, with the artist name "Alberti"), because
they are actually called Verbrugge, I'm the real one" – does not like the obligatory beautiful singing. "I think
intention, urgency and conviction are much more important. Some songs are not beautiful in content. Going
about pain or sadness and then a very ugly note can be much better in place. That is also the reason why I
couldn't settle in at the conservatory in Rotterdam, but I could at the Rock Academy in Tilburg. When I was
there in the second batch of students, it was still a delicious mess. That suited me perfectly." Although
almost twenty years later it still stings a bit that she did not graduate in Tilburg as a singer, but as a musical
entrepreneur. "I was very bad at music theory, but I could improvise on everything. And obtained double the
number of credits of what was required. It was also clear that I could sing. But I didn't become a singer. So I
then – because I'm also stubbornly stubborn – made up my own one-woman show – Mental striptease – for
which I wrote all the arrangements myself. So that rejection has only strengthened the choice to follow my
own path."
Twelve thousand spectators.
A path that eventually led to the Rieu concerts on the Vrijthof, where she is allowed to sing two songs every
evening in front of twelve thousand spectators. Which songs, she keeps a secret for the people who haven't
been yet. "Just stick to pop songs." Songs that Rieu chose himself. "André is the boss and he also
determines the songs that are sung. But he does give me the freedom to perform them in my own way.
Although that freedom with an entire orchestra behind you is of course a lot more limited than when you
perform with a trio." She was nervous only the first night. "Because you haven't seen the show yourself, it
comes up late and so you don't know the stage. How does the light shine, does it blow, things like that." In
any case, the public is super enthusiastic. She does add a side note though. "Maybe people were screaming
all the time, but I don't know, because I'm backstage all the time beforehand. I also think applause is a
strange thing. Because it also means that something is finished, something is coming to an end and we are
going home again. But just as I don't want a book to be finished or a movie to end, I don't want a
performance to end either. I am happiest on stage."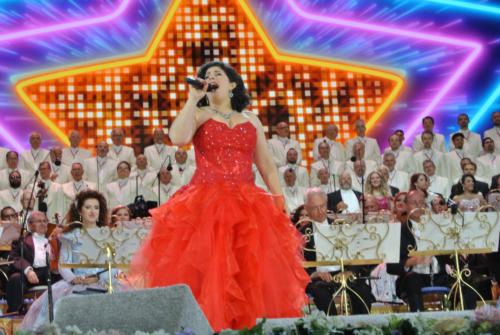 Dorona Alberti, performing: "I will survive" and "Life is Life".
She is blowing away the entire Vrijthof square with her amazing
voice and the audience goes crazy!!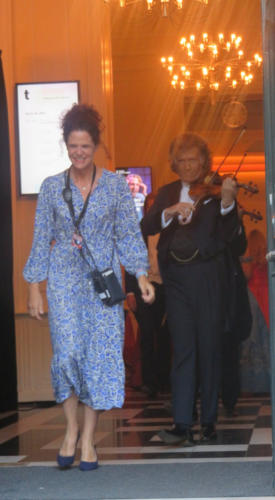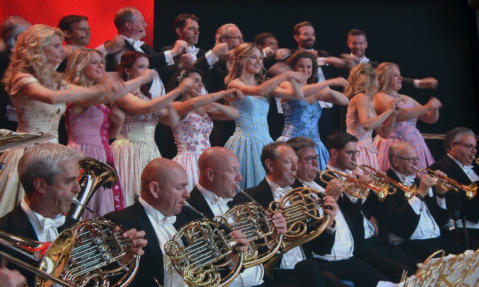 André's new personal assistant and
tourmanager: Yvette Pelens.
Brass section: Ton Maessen, Leon van Wijk, Mathew Spedding, Cleo Simons, Dennis Close, Noël
Perdaens, Robin van Gemert, Marcel Sobol, Lars Wachelder, Roger Diederen, Romano Diederen, Willy
Huppertz, René Henket.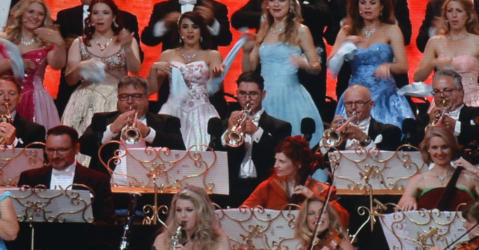 A snow shower on the Vrijthof during the Snow Waltz.
On the 10th concert, July 22,
it rained. The Blue Danube was
very wet. The fans did not mind.
Maite Funtanet Reglero (from Spain) made this very funny video. After each concert André, the orchestra
members and all the guests use to walk through the underground parking garage back to the Theater,
where an after concert drink and snack awaits them. Piccolos (ushers) and fans show their gratitude.
It is a very happy ending of a great concert. Thanks Maite!
During the 14th concert there was a farmer's protest demonstration in Maastricht. The Dutch farmers have
been protesting the government plans to reduce nitrogen emissions since June 2022. It's a cry for help.
They fear to loose their businesses.They carry the Dutch flag upside down, since they think the
government's plans turn their world upside down.
July 30, 2022.
The Limburger: by Ivar Hoekstra.
Pierre Rieu: "I absolutely do not expect farmers to disturb the concert"
André Rieu's concert this Saturday evening at the Vrijthof will start with a tractor within the fence, but Pierre
Rieu, son of the Maestro, does not expect the demonstrating farmers to disturb the performance.
We already met with them at the town hall about this last week. There it was agreed that they will act with
great respect for our guests and the event itself. My father said: "I give you all the attention, if you give our
visitors a nice concert". "We understand the emotions of the farmers very well, which does not mean that
we support their actions. Because we are always neutral in these kinds of things."
Earlier in the evening, Pierre took a look at the Markt in Maastricht where around forty tractors gathered.
"For our foreign visitors who also arrive here with the coaches, it is clear that it is a protest action by the
farmers, but the atmosphere is friendly and respectful. My father's music is even played there! "
"This is how we reach a wide audience" a farmer's spokesman said. The tractor that is on the Vrijthof within
the fence of the concert section, may no longer be moved for safety reasons. "But it is a nice old-timer that
does not ruin the picture," said Pierre Rieu who expects the tractors to leave the market again before the
concert starts at 9 p.m. "I am confident that the farmers will not disturb our concert."
Chapeau Magazine of Facebook:
July 31st 2022.
André Rieu had come up with a surprise for the birthday girl Annemarie Penn-te Strake,
after the 15th and last Vrijthof concert this summer.
Backstage, the mayor of Maastricht was offered a chocolate cake of more than one meter and the Maestro
made a Tyrolean dance with the party guest.
Frank Steijns created this video of the grand final after the 15th and last Vrijthof concert in Maastricht
on Sunday July 31st 2022.
Leaving the stage, André, the orchestra, choir and staff were accompanied by the
playing brass band Edelweiss,
through the underground parking garage, back to the Theater on the Vrijthof.
There, André had not forgotten the Mayor's birthday, as we can read in Chapeau Magazine.
July 31, 2022.
The 15th and last concert of the
concert series on the Vrijthof in
Maastricht, revealed another surprise.
Pierre appeared as a member
of the men's choir. To surprise
André, who did not know
anything about it.
It's great fun! We wonder if André
noticed he had 151 men on stage
that day!
The choir: Anna Reker, Ellie Moran, Vasiliki Chanou, Christina Petrou, Joline Soomers, Kalkie Schrijvers,
Madieke Marjon Schoots, Virgenie Henket.
Solos:
Ber Schellings: The 12 Robbers.
Anna Reker: Nitsch Jaka.
Micaëla: La Vergine degli Angeli.